Randolph Street market Chicago is this weekend.
Saturday and Sunday 24 and 25 August from 10 am till 5 pm on both days.
If you've been there before, you already know what a fun experience it is, and it is even better this year as they have added a beer garden and a bar lounge, plus lots of sitting areas to hang out in between visiting the merchants booths. If you have never been there yet, you owe it to yourself and your family to pay us a visit. This weekend is supposed to be gorgeous, and you can easily spend the day there if you want to look at everything. Click on the photo below to read about this exciting 2-day event.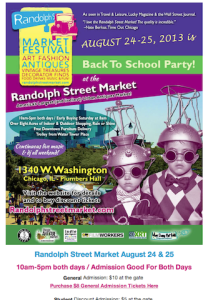 This year, Miss Nyet Jewelry has a full booth outside, so be sure to look for us and say hi.
We will have our end-of-summer sale going on this weekend, with various pieces of jewelry discounted up to 50% from regular price!
And check out our brand new selection of one-of-a-kind belts. Seize the opportunity to meet with designer Delphine Pontvieux and custom order the leather belt of your dreams.
www.missnyet.com
Miss Nyet Jewelry is open again for business, and with that, I am happy to present my new creation, the "Sailor Belt".
Featuring an oversized anchor shackle buckle, large grommets that look like portholes and the possibility to engrave your boat's name or any inscription that inspires you in Old English letters, this is one of my new favorites! Check it out here, it is fully customizable to your specs: http://missnyet.com/wp/the-sailor-belt/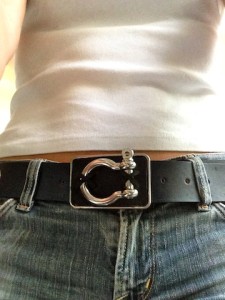 And stay tuned for the "Equestrian collection" version, where the buckle features a horse's head, and the possibility to engrave your horse's name, or whatever suits your fancy!