Attention, loyal customers!
While Miss Nyet Jewelry is never really on holidays, we must inform you we are no longer able to ship new orders after December 15, until next year.
In the meantime, we encourage you to browse our website and to get ideas for a custom order that designer Delphine Pontvieux can create for you in the new year.
Why settle for a mass-produced belt, cuff or necklace everyone can get at the department store, when you can get an original, made entirely by hand, in Chicago, Illinois, USA, to your exact specifications and for a very affordable price?
Send all the questions you may have to missnyetATmissnyet.com and we will be happy to answer them all to satisfaction.
All orders placed between now and January 12, 2014, will ship starting January 13, 2014.
If you are in the Chicago area, we invite you to shop all things Miss Nyet jewelry at the Green Goddess. They have a large selection of belts, necklaces earrings and cuffs from the "Equestrian" and "Woah, frenchy" latest collections at prices that match the website!
There are two Chicago locations, in Lincoln Park on Armitage and downtown at 900 N. Michigan Avenue.
Please check their website for adresses and business hours.
We thank you in advance for your comprehension, and wish you a very, very merry holiday season. See you all in the new year!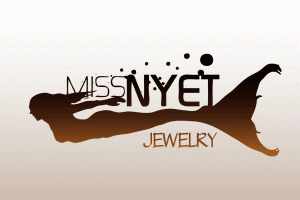 The MNJ mermaid.
In 2014, choose to live to the beat of your own drum. By choosing Miss Nyet Jewelry, you support a small business.