Size Chart
Measuring your Wrist Size
To find your wrist size, wrap a tape measure around your wrist where the bracelet or cuff would be worn and match the length to the size chart below. If a tape measure is not available, you can use a piece of string or paper. Just mark the length needed to wrap around the wrist and then use a ruler to take the measurement.
Be sure to take a loose measurement so that the piece you order does not fit too tightly to your wrist. You can also order a slightly larger size if you prefer a looser fit.
Miss Nyet Jewelry Size Chart:
Bracelets:
Extra Small:     6 1/2″  (165mm)
Small:              7″         (180mm)
Medium:          7 1/2″   (190mm)
Large:             8″         (205mm)
Extra Large:    8 1/2″   (215mm)
Anklets and Chokers/Necklaces, Belts and Dog Collars: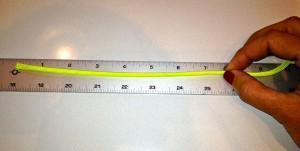 Just include your ankle, waist or neck size in inches or millimeters when you order and we will take care of the rest.