Belt "The Stirrup"
LEATHER BELT WITH SOLID BRASS BUCKLE AND STIRRUP PENDANT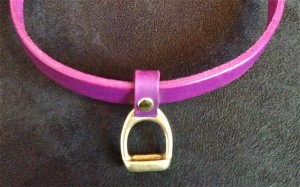 stirrup |ˈstərəp, ˈstə-rəp, ˈstir-| noun1:
Each of a pair of devices attached to each side of a horse's saddle, in the form of a loop with a flat base to support the rider's foot.
This leather belt, designed to compliment the "Stirrup Choker" (which adorns the necks of La Martina Miami Beach 2013 Polo World Cup female polo players), as well as the "Stirrup Wraparound",  is another one of Delphine Pontvieux's original creations in the 2013 Equestrian collection.
Just like the other pieces in the Stirrup line, the "Stirrup Belt" is minimalist, yet, refined, in shape. Made of Latigo leather (which is used in horse saddlery) and solid brass, it is a vision of strength, power, fearlessness, beauty and timeless elegance, just like the polo players that inspired Pontvieux, as she watched them in action in Wellington, Florida, last winter.
The Stirrup belt is made of a one inch (25.4 mm) wide strip of fine cowhide, which was hand-dyed, tooled and finished by the designer.
Adorned with a solid brass stirrup pendant, which measures 1 inch in width (25.4 mm).
The rivets and heavy belt buckle are made of solid brass.
With a possible total length of up to 46 inches (116 cm), this supple leather belt is design to compliment every waist size. Please indicate your waist size when you check out at paypal or by sending us an email to missnyet@missnyet.com, so we know where to place the perforations and to cut the belt to size, in order to fit your measurements.

STIRRUP BELT (MNP-046):
BUY IT: US$ 120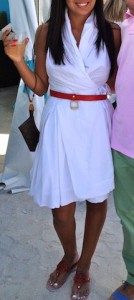 Miss Nyet Tip:
Do you own a pet? Share your flair for equestrian fashion by accessorizing accordingly with your canine companion: pair your belt with the "Stirrup Dog Collar" and "Stirrup Dog Leash" in matching hues.
 Click here to view Miss Nyet's Shipping and Handling policy.