Belt "Woah, Frenchy"
LEATHER BELT WITH LEATHER AND ANTIQUE BRASS BUCKLE ADORNED WITH RIVETED FRENCH COINS AND FRENCH CENTIME COINS THROUGHOUT THE BELT

This leather belt is a one-of-a-kind creation, designed and handmade by Delphine Pontvieux.
The "Wow, Frenchy" belt is made of a 1 1/2 inch (38 mm) wide strip of thick cowhide.
The buckle measures 3 x 2 inches (76.2 x 50.8 mm). It is covered with a riveted twenty-franc coin flanked by four ten-centime coins.
The belt is adorned with five, ten and twenty centime coins.
This belt fits waist sizes ranging from 29 to 34 + inches (72 cms to 85+ cms)
"Think about it, these defunct coins could have met the grim fate of being destroyed when the French adopted the Euro, but they ended up their crazy course right on time, inside my wallet. Now that they are on this belt, they will get the chance to be admired by all, and to remind those who used them what they could buy you at the time: a few baguettes and croissants, an expresso at a sunny terrace…even a ten cent coin would get you a piece of candy at the boulangerie. Who knows, perhaps one of these was once  handled by Catherine Deneuve, Gerard Depardieu or even Keith Richards while he lived in the South of France…that's the mysterious life of money."
Buckle detail: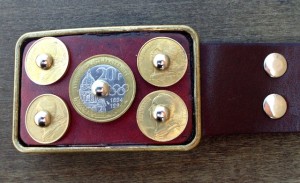 Riveted coins detail:

WOAH FRENCHY BELT (MNP-077)
BUY IT: US$ 180

We can also sell the buckle alone if you already have a belt to put it on:
WOAH FRENCHY BELT BUCKLE (MNP-078)
BUY IT: US$ 50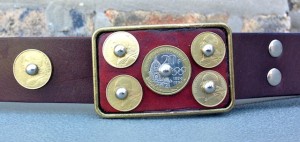 Click here to view Miss Nyet's Shipping and Handling policy.