AND NOW, FOR AN ORIGINAL FRIENDS' NIGHT OUT!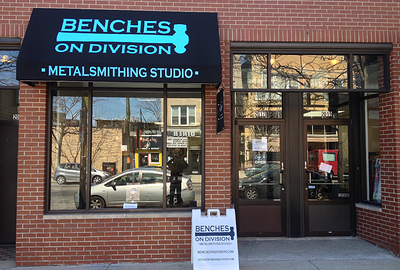 Benches on Division is a metal smithing studio downtown chicago.
In addition to giving awesome classes, they just expended their studio and they are now gearing up to turn the front of the studio into a full blown artisan jewelry boutique.
You guessed it, they are going to carry a fine selection of Miss Nyet Jewelry in store!
Join them, along with Delphine Pontvieux and more local artists, for an open house celebration of their studio expansion tomorrow Thursday April 11th from 5-9pm.
On top of checking out awesome jewelry, you will be encouraged to:
-Register to win a free 5 week basic metalsmithing course.
-Make your own letter stamped pendant necklace. (Materials Provided.)
-Watch a ring making demo at 7 and 8pm.
-Alliance bakery cupcakes served at 6:30pm.
-Beer, wine and munchies all night!
Benches on Division
2017 w division st
chicago, IL 60622