The "Horse Head" Leather Cuff
LEATHER AND ANTIQUE SILVER PLATE HORSE HEAD CONCHO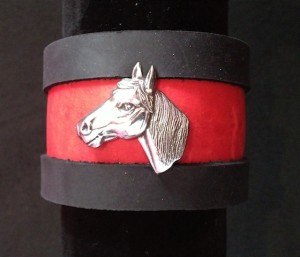 This striking Cuff is a truly unisex piece.
The cuff is made from a 1 3/4 inch wide (45 mm) hand dyed piece of leather, on which two leather straps have been riveted in place. It is adorned with a horse head concho in the center of the cuff. A "concho" is a decorative metal piece that is usually added to leather items such as saddle strings. This antique silver plate concho is intricate in design.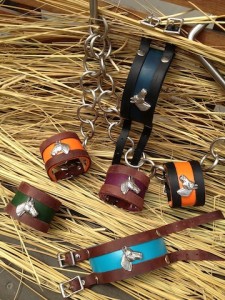 This bracelet attaches to your wrist with two strap buckles, which are made of nickel-plated solid brass. In true unisex style, one size fits every female and male wrist sizes, from 6 1/4 to 8 1/2 inches. Should your wrist measurement fall outside the standard size, please make a mention of it on your order form or email us at missnyet@missnyet.com and we will be happy to custom make it to your specifications.
For this cuff, you get to pick:
the leather strap color: Black or Brown.
the main leather cuff color (see complete list of available colors in the BUY IT section below).
With so many combination choices available, you won't find too many people wearing the same Horse Head Cuff.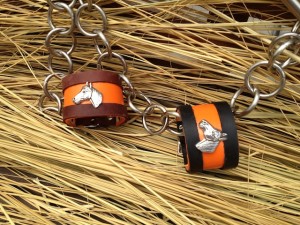 HORSE HEAD CUFF (MNP-051):
BUY IT: US $140
Click here to view Miss Nyet's Shipping and Handling policy.