The 'Mahaut' Chainmaille Bracelet
JUMP RINGS AND CHAINS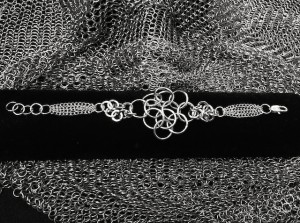 This chainmaille bracelet incorporates jump rings weaved in a 'Rosette' pattern, with a cluster of chains attached to them around the wrist.
– In the silver version, the chains are jump rings are plated with Rhodium.
– In the color version, the chains, as well as the top and bottom jump rings, are made of anodized aluminum.
Pair them with the 'Blanche' necklace and the 'Mathilde' earrings for a perfect set.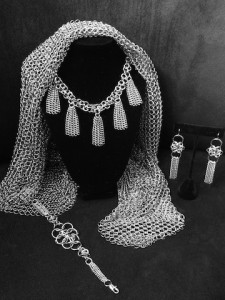 MAHAUT CHAINMAILLE BRACELET (MNP-105)
BUY IT
US $60
Click here to view Miss Nyet's Shipping and Handling policy.