The 'Margaux' Chainmaille Earrings
CHAIN WITH 'MOBIUS' WEAVED JUMP RINGS

This chainmaille earrings incorporate jump rings weaved in a 'Mobius' pattern, and are available in 2 variations:
– The silver chain earrings are rhodium-plated. Jump rings are made of anodized aluminum, with platinum-plated ear hooks.  (MNP-095)
– The gun metal grey chain earrings and jump rings are made of anodized aluminum, and come with black metal ear hooks. (MNP-096)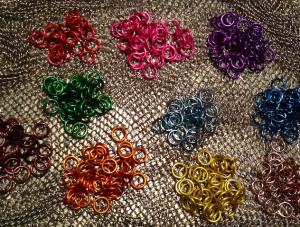 Choose up to two colors for the Mobius Weave. If you want all jump ring clusters the same color, select the same hue in both boxes. Otherwise, Jump Ring 1 corresponds to half the color of the Mobius clusters, and Jump Ring 2 corresponds to the other half. (See photos of mixed color earrings above.)
Margaux Earrings Silver Chain (MNP-095)
BUY IT
US $25
Margaux Earrings Gun Metal Grey Chain (MNP-096)
BUY IT
US $25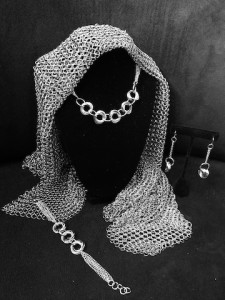 Pair it with the 'Alix' bracelet and the 'Alienor' necklace from the collection in the same range of color for a perfect set.
Click here to view Miss Nyet's Shipping and Handling policy.