From the beach to the snow,
From the road less traveled to the bustling heart of the city.

Our new spring/summer collection 2014 has launched! 
Subscribe to our newsletter for the latest information and to receive your invitation to the official launch party.
 ~~~~~~~
(Re)discover our other collections:
This collection is inspired by everything equestrian, and the sport of polo. As such, it is fitting that it was launched during the ninth annual La Martina Miami Beach Polo World Cup, the world's largest and most prestigious Beach Polo competition, which took place in April of 2013 on the sands of South Beach, Florida.
The POLO LIFE at the La Martina Miami Beach Polo World Cup IX, organizer of the event, commissioned Delphine Pontvieux to create a distinctive piece of jewelry to be given as gift to all the female polo players in competition during the Trophy ceremony. That was how the "Stirrup Choker" was born, and has since become one of our best selling pieces.
Also, for the first time, an original line of pet collars was introduced: the Galloping horse dog collar and the Stirrup dog collar, available in two widths for small and large dogs.
NON ET NON – THE AFFIRMATIVE COLLECTION (FALL/WINTER 2012)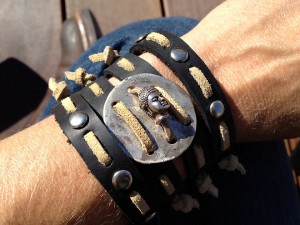 As seen in the 2013 swimsuit issue of Southern Boating Magazine.
This new collection is inspired, in part, by the combination of two fundamental elements : the Earth and the Sea.
The Sea is represented by the use of nautical hardware, such as the ever present anchor shackle, which has become Miss Nyet's jewelry's signature hardware, conchos in the shape of boat propellers, or again replicas of old pirate coins, such as the gold or silver doubloon, or the legendary piece of eight.
Earth is represented by the rich, warm textures of Latigo leather, and metals. Latigo leather is a cattle hide leather which is used for saddlery work and numerous other outdoor uses. It is thick and resistant to the elements, yet it quickly becomes soft to the touch, supple, durable and gorgeous. Add to this some suede lace weaving to add a burst of color, metal beads, conchos and/or rivets, and you get, again, a unique piece of jewelry that truly reflects who you are.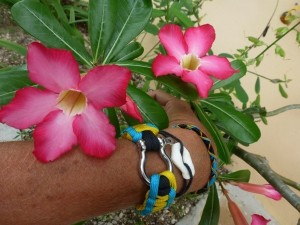 "Points d'Ancrage", aka the "Anchor Shackle collection," was informally launched in March of 2012 and was met with such enthusiasm, it soon became Pontvieux's principal occupation. This simple collection, which includes bracelets, anklets and chocker necklaces, is, truth be told, entirely designed by you: you get to pick the color(s), pattern(s), width and size, so each piece becomes a one-of-a-kind statement.
It is made with type III commercial Parachute cord (which is a lightweight nylon kernmantle rope that is very resistant and will not rot in the elements), plus the Miss Nyet signature hardware, a stainless steel anchor shackle. So, go ahead and sweat at the gym, take a swim in the ocean, shower with it on… You don't need to ever take it off again if you don't want to!
Every Miss Nyet piece of jewelry is handmade to order, with love and patience,  by Delphine Pontvieux, with carefully selected hides and hardware that are made to last. 
Press:

Art fairs and Trunk shows: