The "Braided Leather" Bracelet/Necklace
LEATHER AND METAL BEADS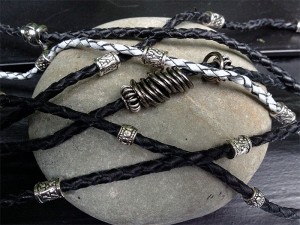 The BRAIDED LEATHER is a unisex bracelet.
Made of braided leather with assorted silver-plated metal beads (beads may vary in shape and design.)
This piece is very versatile: It is designed to wrap around twice around your wrist OR you can also wear it as a choker necklace!
Magnetic closure. Click here for help with finding your wrist size.
BRAIDED LEATHER (MNP-034):
BUY IT
US $30
Click here to view Miss Nyet's Shipping and Handling policy.