The "Buddha"
LEATHER, HAMMERED 5 FRENCH FRANCS COINS (SILVER TONE) OR OTHER DEFUNCT EUROPEAN CURRENCIES (GOLD TONE)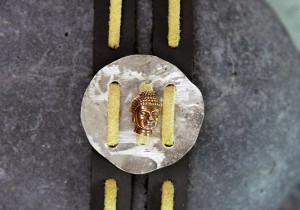 This one is also a labor of love! The BUDDHA is made with 2 strips of either black or brown 1/2 inch wide Latigo leather (13mm), which can be either left plain or adorned with suede in a variety of colors.
Similar to the NAMASTE, it is made of a one-of-a-kind bead made out of an old five French franc coin (for the silver version) which was hammered, drilled and polished to its final shape.
The hammered coin is also adorned with the smiling head of Buddha, which is secured with a piece of waxed cotton cord.
With so many different possible combinations , no two are alike!
Be sure to specify your wrist size when completing your order.
BUDDHA (MNP-022)
BUY IT
US $100
Click here to view Miss Nyet's Shipping and Handling policy.