The "Cage"
LEATHER, SUEDE AND METAL RIVETS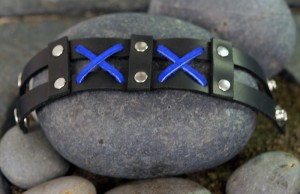 Double strip of either black or brown 1/2 inch wide Latigo leather (13mm), attached with silver rivets.
Available in either plain leather for an understated look, or adorned with your choice of suede lace for a bright splash of color.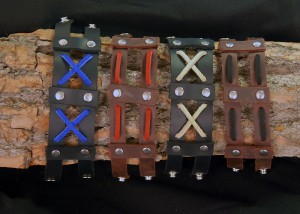 CAGE PLAIN (MNP-023-1)
BUY IT
Plain: US $40
CAGE WITH SUEDE (MNP-023-2)
BUY IT
Plain: US $50
Be sure to specify your wrist size when completing your order.
Click here to view Miss Nyet's Shipping and Handling policy.