The "Concho"
LEATHER, STAINLESS STEEL/SOLID BRASS, AND SUEDE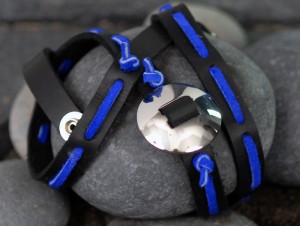 The CONCHO is a wraparound-style bracelet made of either black or brown 1/2 inch wide (13mm) Latigo leather.
The bracelet is over 30 inches in length (700mm) and designed to wrap four times around your wrist. It is adorned with a "concho," a decorative metal piece that is usually added to leather items such as saddle strings. This piece is so versatile, you can wear it as a bracelet, anklet, or even as a belt or headband.
While conchos can be very intricate in their designs, this one is made of either stainless steel (silver) or solid brass (gold) and polished to a mirror-like finish.
With so many combination choices, you won't find too many people wearing the same CONCHO bracelet!
This bracelet attaches to your wrist with a strap buckle. The gold buckle is made of brass for the brass concho, and the silver buckle, made of solid brass/nickel plated for silver concho.
In true unisex style, one size  fits every female and male wrist sizes, from 6 1/4 to 8 1/2 inches.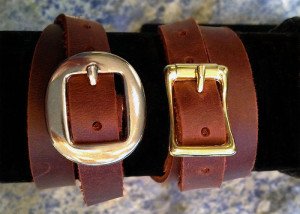 CONCHO PLAIN (MNP-020-1)
BUY IT
US $60
CONCHO WITH SUEDE LACE (MNP-020-2)
BUY IT
US $70
For an added splash of style, add a suede lace along the center of the bracelet. Available in several colors. Unisex, one size fits all thanks to the strap buckle attachment.
A tip from Miss Nyet:
Add two STAPLE bracelets on either side of the CONCHO to turn it into a bold cuff. Wear it around your ankle, or again as a belt. It also looks great as a headband.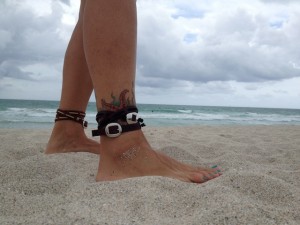 Click here to view Miss Nyet's Shipping and Handling policy.