The "Monkey Fist" Earrings
SUEDE, MARBLE, METAL BEADS AND SILVER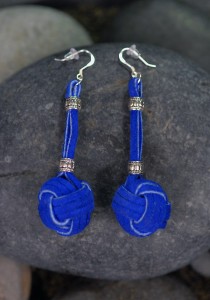 Made with over 20 inches of suede lace in each earring, with a colored marble inside the knot.
These original earrings are adorned with two engraved metal beads.
Hook ear wires and connecting links are made of sterling silver.
With several colors to chooze from, this is one original pair of earrings! Extra bonus points if you wear them on a sailboat.
MONKEY FIST EARRINGS (MNP-035):
BUY IT
US $45
The "Kraken" choker
LATIGO LEATHER, SUEDE, AND SILVER PLATED OCTOPUS
This new addition to the collection is the perfect complement to the monkey fist earrings. The choker is made of 1/2 inch wide latigo strip, with a solid brass/nickel plated buckle strap in the back of the choker, to fit most neck sizes. The octopus pendant will be sure to turn heads! Pick your suede and leather color for a true made-to-order piece.
KRAKEN CHOKER (MNP-070):
BUY IT
US $55
"Monkey Fist" Earrings and "Kraken" Choker set
EARRINGS AND CHOKER SET (MNP-071):
BUY IT
US $85
Click here to view Miss Nyet's Shipping and Handling policy.