The "Namaste"
LEATHER, HAMMERED 5 FRENCH FRANCS COINS (SILVER TONE) OR OTHER DEFUNCT EUROPEAN CURRENCIES (GOLD TONE)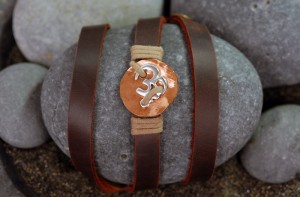 This one is a labor of love! The NAMASTE is a wraparound-style bracelet made of either black or brown 1/2 inch wide (13mm) Latigo leather.
The bracelet is over 22 inches in length (550 mm) and designed to wrap three times around your wrist. It is adorned with a one-of-a-kind bead made out of an old five French franc coin (for the silver version) which was hammered, drilled and polished to its final shape, in addition to a metal "namaste" symbol that is secured with a piece of waxed cotton cord. No two are alike!
This bracelet attaches to your wrist with a strap buckle. (gold buckle made of brass). In true unisex style, one size  fits every female and male wrist sizes, from 6 1/4 to 8 1/2 inches.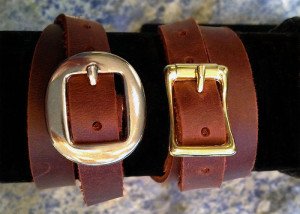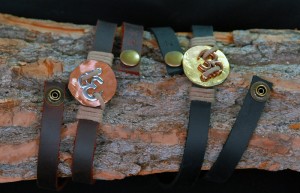 NAMASTE (MNP-021)
BUY IT
US $100
Click here to view Miss Nyet's Shipping and Handling policy.