The "Ruler"
LEATHER, WAXED COTTON AND HANDMADE BEADS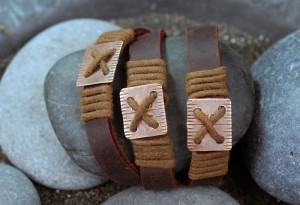 The bracelet is made of a 1/2 inch wide (13mm) Latigo leather strip, designed to wrap three times around your wrist.
It is adorned with three handmade beads cut from an old metallic ruler which have been drilled and polished to their final shape and secured with waxed cotton cord.
This bracelet attaches to your wrist with a strap buckle. (gold buckle made of brass for copper beads, silver buckle made of solid brass/nickel plated for silver beads). In true unisex style, one size  fits every female and male wrist sizes, from 6 1/4 to 8 1/2 inches.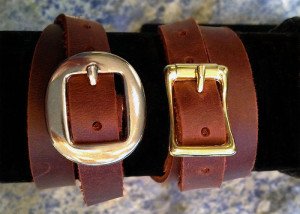 RULER WRAPAROUND (MNP-025):
BUY IT
US $100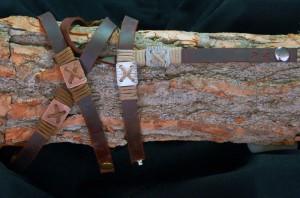 Click here to view Miss Nyet's Shipping and Handling policy.