The "Staple"
LEATHER AND SUEDE BRACELET WITH RIVETS OR BEADS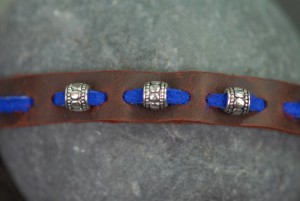 This bracelet gets its name because of its versatility. You can wear it a thousand ways.
You can wear one alone, stack multiple together in different color and bead combinations, or even snap several back-to-back to create an original wraparound.
The STAPLE  can be mixed and matched with many other bracelets from the Miss Nyet Jewelry collection, to make a stronger statement when the situation calls for it!
The STAPLE is made of either black or brown 1/2 inch wide (13 mm) Latigo leather.
Available in various combinations of suede colors, with metal beads or rivets. Be sure to specify your wrist size when completing your order.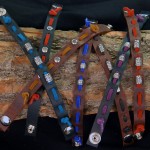 STAPLE (MNP 018-1)
BUY IT
$25
Click here to view the suede color chart.
Click here to view Miss Nyet's Shipping and Handling policy.