The "Turtle"
LEATHER, SUEDE AND METALLIC TURTLE CHARM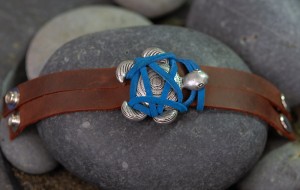 This bracelet carries a message: the turtle symbolizes life in the ocean, in all its beauty, endurance and majesty. Yet, the suede that is wrapped around her could be a net that's trapping the animal, reminding us of the fragility of our ecosystem. This bracelet is a reminder that life on our planet is beautiful and that it is our responsibility to respect and protect it for the generations to come.
Double strip of either black or brown 1/2 inch wide Latigo leather (13mm), adorned with a large turtle charm and secured with your choice of suede lace.
Be sure to specify your wrist size when completing your order.
TURTLE CUFF (MNP-024):
BUY IT
US $70
Click here to view Miss Nyet's Shipping and Handling policy.