The "Wraparound" bracelet
WAXED COTTON AND BEADS OF VARIOUS SHAPES (COPPER/GOLD/SILVER)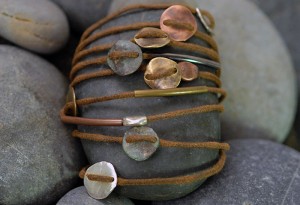 This one needs no introduction! A bestseller, this bracelet is made of waxed cotton. it is adorned with weathered metallic beads in various shapes and colors.
At close to two yards in length (two meters long), this bracelet wraps many times around your wrist.
Be sure to specify your wrist size when completing your order.
WRAPAROUND (MNP 008-2):
BUY IT
US $50
A tip from Miss Nyet:
Wear two or more bracelets at once, of mixed colors, for a bolder look.
Click here to view Miss Nyet's Shipping and Handling policy.