The Doubloon Pirate Cuff
BURIED TREASURE IN LATIGO LEATHER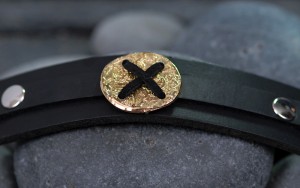 The DOUBLOON PIRATE is a wrist cuff made of two stripes of superimposed Latigo leather.
During the Golden Age of Piracy, Spain minted their coins by hand in silver and gold. The silver coins were known as Reales (Reals) and the gold coins as Escudos (Escudo). At the time, one doubloon was worth roughly seven weeks' pay for the average sailor.
The "X" marks the spot of a 1-inch wide (25mm) cast metal replica Doubloon in gold or silver tone. Release your inner Captain Kidd or Anne Bonny by wearing one of these cuffs.
The brown LATIGO cuff is 1 5/8 wide (45mm) and the black version is 1 1/2 wide (38mm).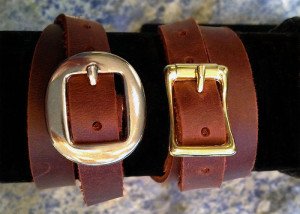 This bracelet attaches to your wrist with a strap buckle. The gold buckle is made of brass and the silver buckle, made of solid brass/nickel plated. Your choice! In true unisex style, one size  fits every female and male wrist sizes, from 6 1/4 to 8 1/2 inches.
PIRATE LEATHER CUFF (MNP-027)
BUY IT
US$ 80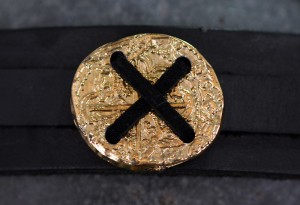 Click here to view Miss Nyet's Shipping and Handling policy.