The "Propeller" leather cuff
LATIGO LEATHER, COPPER, STEEL & BRASS PROPELLER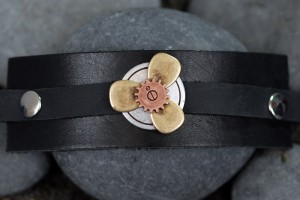 This wrist cuff combines metals to give a timeless look to a piece with a mariner's style. The central fitting evokes the golden age of seafaring with an art deco feel. The propeller even spins!
The colors compliment the rich black or brown latigo leather behind it, or both colors can be combined for a more distinctive look.
The brown version of the cuff is 1 5/8″ wide (45mm) and the black version is 1 1/2″ wide (38mm).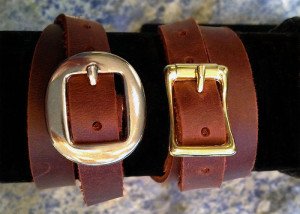 This bracelet attaches to your wrist with a strap buckle. The silver buckle is made of solid brass/nickel plated. In true unisex style, one size  fits every female and male wrist sizes, from 6 1/4 to 8 1/2 inches.
PROPELLER CUFF (MNP-029)
BUY IT
US$ 80
Click here to view Miss Nyet's Shipping and Handling policy.