BUY some freshly toasted BOOKS for your annual Spring reading at the POP-UP BOOK FAIR on April 14!Chicago Writers House and Curbside Splendor Publishing present: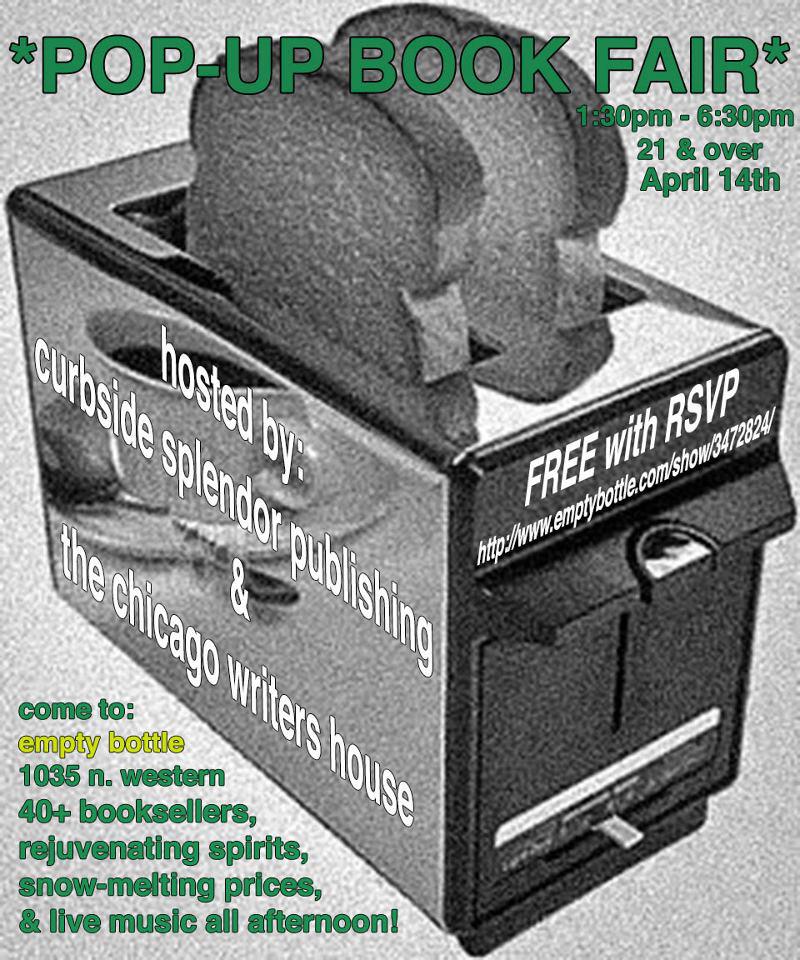 A POP-UP BOOK FAIR!
40 of the finest independent publishers, presses, & booksellers from Chicago and elsewhere will be on hand hocking their goods. Quimby's Bookstore will also stock a table with a selection of books-n-zines penned by Chicagoans. The bar will be open so grab a cocktail and listen to live music all afternoon as you ogle some books and satiate your bibliophiliac needs!
FREE with an RSVP here:
http://www.emptybottle.com/show/3472824/
Otherwise $5 at the door.
This toasty event is 21+ unless minors are accompanied by a parent or legal guardian.
VENDORS INCLUDE:
7 Vientos
826chi
Agate Publishing
Allium Press
Anobium
Another Chicago Magazine
Anything Goes Publishing
Artifice Mag
Burial Day Books
Chicago Center for Literature and Photography (CCLaP)
Chicago Writer's Association
Chicago Zine Fest
contratiempo
Convulsive Editions
Curbside Splendor Publishing
Dogzplot
Dream of Things
Ginger Piglet
Graze Mag
The Handshake
The Illustrated Press
Lake Claremont Press
Lake Forest College Press / &Now Books
Love Symbol Press
MAKE
Midwest Writing Center
Miss Nyet Publishing
New American Press
Orange Alert
Other Voices (OV) Books
Poetry
Quimby's
Rose Metal Press
Solace in So Many Words
South Loop Review
Soup & Bread Cookbook
Spudnik Press
Switchback Books
TriQuarterly
LIVE SETS BY:
Mr. Mayor & the Highballers
Warm Bones (a new project by Russ Woods of Tiny Folk)
If Trees Could Write