"The Sailor" Choker
STAINLESS STEEL MARINE AWNING PULLEY, PARACHUTE CORD AND ADJUSTABLE ALUMINUM FERRULE/STOP SET AS CLOSURE
This necklace is called "the Sailor" because the pendant is a genuine stainless steel awning pulley, the kind that is found on sailing boats.

Its length is adjustable, and can be worn as a necklace or as a choker. Again, this is a unisex piece that will look equally stunning around the neck of a man or a woman. Available in 33 colors. Click Here to see all available cord colors. Go ahead, swim with it in the ocean, it won't rust or deteriorate!
Some scuba instructors we know have been wearing it every day in the ocean for over a year, and their necklaces look just as good as ever. A bit salty, perhaps, but rusty, certainly not.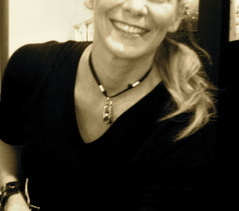 SAILOR CHOKER (MNP-039):
BUY IT (sailing trip around the world not included!)
US $35
 Click Here for more information on Miss Nyet's shipping and handling policy