The "Signature Bracelet"
LEATHER AND STAINLESS STEEL SHACKLE
There is a reason this bracelet is called "Signature." It is a combination of Delphine Pontvieux's two favorite things to work with: leather and the anchor shackle, which is, according to her, the most striking and resourceful piece of hardware that was ever invented. As such, it epitomizes her style as a jewelry designer.
NEW in the Chic Planet collection : the Signature Bracelet 2.0, featuring stitching along the edges, for a more sophisticate look.
Choose between the three following sizes (Click Here for help in finding your wrist size):
X Small – for wrist sizes up to 6 1/4 inches
Small – for wrist sizes up to 6 1/2 inches
Medium – for wrist sizes up to 7 inches
Large – for wrist sizes up to 7 1/2 inches
Custom size – Choose this option for the best possible fit. Please mention your wrist size on the order form at check out or send us an email to missnyet@missnyet.com.

SIGNATURE BRACELET (MNP-053):
BUY IT: US $35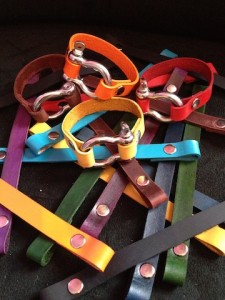 EXTRA BAND (MNP-053):
BUY IT: US $10
So many gorgeous leather colors to choose from: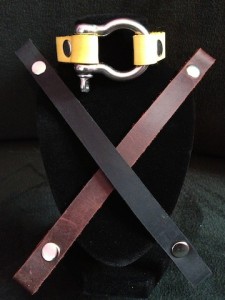 SIGNATURE BRACELET SET (MNP-054):
Choose the Signature bracelet set, which includes a signature bracelet, and two extra interchangeable bands.
You automatically get a black and a brown leather band, + one extra color of your choice.
This is one versatile accessory you will soon want to take everywhere with you, so your handbag, shoes and wardrobe match every time, even when you are on the go. Take advantage of this great offer:
BUY IT: US $50
Click here to view Miss Nyet's Shipping and Handling policy.