The "Signature Bracelet 2.0"
STITCHED LEATHER AND STAINLESS STEEL SHACKLE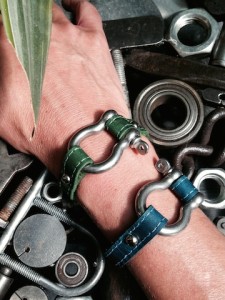 You already love the "Signature" leather bracelet. In spite of its minimalist, unisex design, it scores big in originality and makes a statement every time you wear it around your wrist.
Taking on her staple design in a new, yet, simple, direction, Delphine Pontvieux added stitching along the edges of the Signature's 2.0 leather band.
The result? A leather bracelet that will get you "feeling Couture."
Made of High quality cowhide, hand-dyed by designer and coated with a protective leather finish.
The bracelet closure is a genuine marine grade, stainless steel anchor shackle.
Available in a wide range of colors, from earthy tones to bright hues.
See the original, from the Equestrian Collection : Signature Bracelet.
Choose between the following sizes (Click Here for help in finding your wrist size):
X Small – for wrist sizes up to 6 1/4 inches
Small – for wrist sizes up to 6 1/2 inches
Medium – for wrist sizes up to 7 inches
Large – for wrist sizes up to 7 1/2 inches
Custom size – Choose this option for the best possible fit. Please mention your wrist size on the order form at check out or send us an email to missnyet@missnyet.com.
SIGNATURE STITCHED BRACELET 2.0 (MNP-125):
BUY IT: US $45
SIGNATURE STITCHED BAND (MNP-126):
BUY IT: US $15
Click here to view Miss Nyet's Shipping and Handling policy.