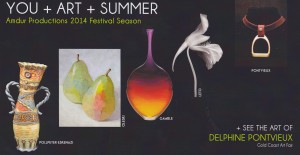 You are cordially invited to experience the Gold Coast art festival, which will take place June 21 and 22 in downtown Chicago.
Passionate paintings, provocative photographs, stunning sculptures, original jewelry, plus live music, food and free fun souvenir photos all await you.
GOLD COAST ART FAIR AT GRANT PARK
IN CHICAGO, ILLINOIS • JUNE 21 – JUNE 22, 2014 • 10-6 DAILY
---
Get ready for the return of the "Granddaddy of American Art Festivals"! Rated as one of the top 50 juried art festivals in the country, the Gold Coast Art Fair at Grant Park welcomes more than 300 artists from around the world to downtown Chicago on June 21 and June 22, 2014. Exceptional artwork of all mediums, ranging in price from $25 to $25,000, will draw hundreds of thousands of art enthusiasts to Grant Park's beautiful Butler Field.
Free admission.
Come visit Delphine Pontvieux at our booth # 510 and browse our updated collection of stitched leather, available in a rainbow of colors. If you have an idea in mind for a one-of-a-kind belt, a cuff, or earrings, this is your chance to meet face-to-face with the designer so we can make it happen. We love custom projects!
Not able to make it this weekend? You can browse our website and even design your custom-sized piece of jewelry here at www.missnyet.com.
For more information regarding this event, visit http://amdurproductions.com/gold-coast-art-fair-at-grant-park/ 
#GoldCoastArtFair
See you this weekend,
MNJ