VISIT MISS NYET JEWELRY BOOTH AT THE BARRINGTON ART FAIR ON MEMORIAL DAY WEEKEND
MISS NYET -AND DELPHINE PONTVIEUX, DESIGNER AND CREATOR- ARE PROUD TO INVITE YOU TO THE OFFICIAL LAUNCH OF OUR NEW COLLECTION
THE EQUESTRIAN COLLECTION
AT THE BARRINGTON ART FAIR IN BARRINGTON, ILLINOIS, ON MAY 25 AND 26.
Come and discover the new original pieces created and hand crafted by delphine Pontvieux this weekend.
Our booth is # 163.
Visitor Information
WHAT:
The 4th Annual Barrington Art Festival
WHERE:
Downtown Barrington
Cook and Station Streets
Barrington, Illinois 60010
WHEN:
Saturday, May 25, 2013 10:00 a.m. – 5:00 p.m.
Sunday, May 26, 2013 10:00 a.m. – 5:00 p.m.
COST:
Free Admission, Free Parking available throughout the downtown
HIGH-LIGHTS:
Incredible artwork, live music, great food and fun activities for kids make the Barrington Art Festival a destination for art lovers of all ages.
BARRINGTON ART FESTIVAL
IN BARRINGTON, ILLINOIS • MAY 25 – MAY 26, 2013 • SAT & SUN 10-5 • 130 ARTISTS
Amdur Productions proudly kicks off the season with the fourth annual Barrington Art Festival over Memorial Day weekend. Known for its grand mansions and horse farms, the affluent suburb of Barrington boasts a wealthy population with a deep appreciation of art and buying history. The festival takes place in Barrington's charming downtown, which is filled with cafes, boutiques and restaurants. Easy listening live music takes place throughout the festival. A centrally located Festival Info Booth and children's art activities add to the weekend. Admission and parking for the public is free.
The Equestrian Collection is minimalist, yet, refined, in shape. Made of Latigo leather (which is used in saddlery) or colorful cowhide (which was hand-dyed, finished and polished by Pontvieux), it is adorned with various metals such as solid brass and stainless steel.  The Equestrian Collection is a vision of strength, power, fearlessness, beauty and timeless elegance, just like the polo players and their ponies, which inspired Pontvieux as she watched them in action in Wellington, Florida, last winter.
The POLO LIFE at the La Martina Miami Beach Polo World Cup IX, organizer of the event,commissioned Delphine Pontvieux to create a distinctive piece of jewelry to be presented as a gift during the Trophy ceremony to all the female polo players in competition. The "Stirrup Choker" was born. The necklace became an instant favorite at the event, and received many enthusiastic accolades from the polo players, the media, and the public who got the chance to purchase their own at the Miss Nyet Exhibit in the VIP area.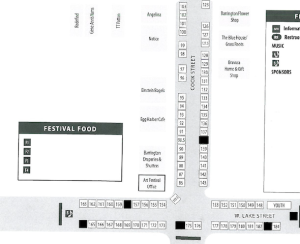 We are the corner booth located on Lake Street by the music stage.
We are looking forward to meeting you there!