Miss Nyet Jewelry is open again for business, and with that, I am happy to present my new creation, the "Sailor Belt".
Featuring an oversized anchor shackle buckle, large grommets that look like portholes and the possibility to engrave your boat's name or any inscription that inspires you in Old English letters, this is one of my new favorites! Check it out here, it is fully customizable to your specs: http://missnyet.com/wp/the-sailor-belt/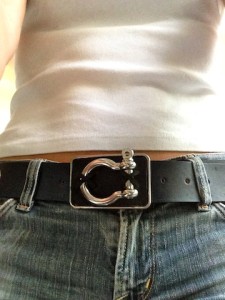 And stay tuned for the "Equestrian collection" version, where the buckle features a horse's head, and the possibility to engrave your horse's name, or whatever suits your fancy!