Belt "The Amsterdammer"
LEATHER BELT WITH LEATHER AND METAL BUCKLE ADORNED WITH RIVETED DUTCH GUILDER COINS, AND THE INSCRIPTION "FIETS TE KOOP" IN "OLD ENGLISH" LETTERS.
This leather belt is a one-of-a-kind creation, designed and handmade by Delphine Pontvieux.
The Amsterdammer belt is made of a 1 1/2 inch (38 mm) wide strip of thick cowhide.
"I chose a dark brown dye color for this belt, because it reminded me of the color of rolling tobacco, as well as that of the ceilings of the old Bruin cafes of A'dam, which are nicotine-stained from years of being filled with cigarette smoke. This warm color still reminds me of the city I lived in for three years during the mid-90s, the old, mysterious Amsterdam I fell in love with."
The buckle measures 3 x 2 inches (76.2 x 50.8 mm). It is covered with riveted Dutch Guilder coins (One 2 1/2 guilder coin in the center, flanked by four 25-cent Dutch coins).
The belt is adorned with ten riveted one Dutch Guilder coins, and two 25-cent Dutch coins. It also reads "FIETS TE KOOP" in Old English letters engraved into the leather.
"This is another thing that I will never forget about Amsterdam, the pace at which bikes were being stolen. Thank goodness they were cheap to replace (cheaper than bike locks!). Upon realizing that your bike was gone after a movie or concert night, you would start walking down the street, while straining your ears for the familiar sound of a bicycle to approach along the cobblestones and hope to hear: "Hey psst! fiets kopen? – een tientje!" (Wanna buy a bike? that'll be 10 guilders!) from the mouth of the junkie who just stole it. Not the most ethical transaction, one may say, but, at least, one that got you home faster than on foot! Thinking of it, I owned over thirty bikes in the three years that I lived downtown Amsterdam.
This is what made me laugh about designing this belt, not only because it represents a slice of Amsterdam's historical culture and good memories, but also because, had I owned this belt back in the day, I could have used it to pay for a bike to get me home, even if someone had stolen my wallet!"
This belt fits waist sizes ranging from 29 to 34 + inches (72 cms to 85+ cms)
Buckle detail:
Engraving detail:


Riveted coins detail:
AMSTERDAMMER BELT (MNP-074)
BUY IT: US$ 180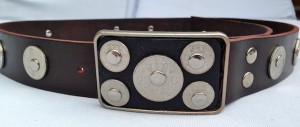 You love the buckle but already have a belt to put it on? get the buckle only, available in many colors.
AMSTERDAMMER BELT BUCKLE (MNP-076)
 Entirely custom made to your specs.
BUY IT: US$ 50
Click here to view Miss Nyet's Shipping and Handling policy.