Belt "The Biker"
LEATHER BELT WITH HEAVY METAL AND BLACK ENAMEL SKULL BUCKLE ADORNED WITH DOMED STUDS AND CHAINS.

Designed and handmade by Delphine Pontvieux (Except for buckle.)
The Biker belt is made of a 1 1/2 inch (38 mm) wide strip of thick cowhide.
The buckle measures 3 3/4 x 2 3/4  inches (95 x 67 mm). It is made of enameled metal and feels very heavy.
The belt is adorned with chains and 1/2 inch (12,5 mm) domed rivets.
The belt can also be customizable with the engraving of your choice instead of/in addition to the chains. Everyone knows your motorcycle has a name! Contact us at missnyet@missnyet.com with your requests.
Buckle detail: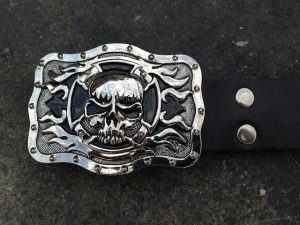 Belt chain and domed rivets detail:


BIKER BELT (MNP-079)
BUY IT: US$ 150
Click here to view Miss Nyet's Shipping and Handling policy.