Belt "The Sailor"
LEATHER BELT WITH LEATHER AND METAL BUCKLE ADORNED WITH A STAINLESS STEEL ANCHOR SHACKLE, PORTHOLE GROMMETS AND THE INSCRIPTION OF YOUR CHOICE (OPTIONAL) IN "OLD ENGLISH" LETTERS.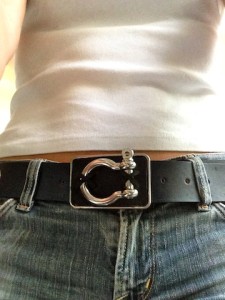 This leather belt, designed to compliment the "Latigo cuff bracelet,"  is the latest of Delphine Pontvieux's original creations this summer of 2013.
Whether you've survived the Cape Horn and the roaring forties, or you just like to sail a balsam toy boat with your kids in the pond behind your house, it is time to unleash the fearless sailor in you!
The Sailor belt is made of a 1 1/2 inch (38 mm) wide strip of fine cowhide, which was hand-dyed, tooled and finished by the designer. it is available in various colors of your choice.
The buckle measures 3 x 2 inches (76.2 x 50.8 mm). It features a real, marine-grade nautical anchor shackle at its center, held with suede lace (available in a range of colors). The shackle is made of stainless steel, which will not rust.
The belt is adorned with large grommets (1 inch diameter, 25 mm), which are designed to look like portholes.
You can add an inscription of your choice (optional, at no extra cost) in "Old English" letters, such as the name of your boat. No boat yet? The belt featured on this page says: "Fair Winds," a customary farewell amongst sailors. But feel free to come up with anything that means something to you: your imagination is the limit. Send us an email at missnyet@missnyet.com to let us know the exact wording of the inscription you wish to engrave on your belt.
Please specify waist size when placing your order in the 'special instructions box' during paypal check out, so we know where to place the perforations and to cut the belt to size, in order to fit your measurements.
Lettering example:
Add the name of your boat, of your favorite island, let your imagination run wild!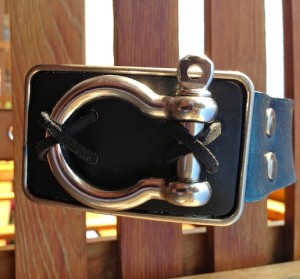 Belt buckle close up: pick belt leather color and suede color:
SAILOR'S BELT (MNP-073) entirely custom made to your specs.
BUY IT: US$ 150
We can also sell the buckle alone if you already have a belt to put it on:
SAILOR'S BELT BUCKLE ONLY (MNP-074) custom made to your color specs.
BUY IT: US$ 50
 Click here to view Miss Nyet's Shipping and Handling policy.