Earrings "The Stirrup 2.0"
STEEL CHAIN, DEERSKIN LEATHER FRINGE
Made of steel and buttery soft deerskin leather.
Approximate length: 4 inches (100 mm)
"STIRRUP 2.0" EARRINGS (MNP-114):
BUY IT: US$ 50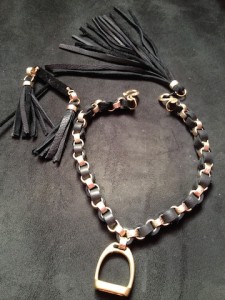 Pair the earrings with the Stirrup 2.0 bracelet and the necklace to create a striking set and save 50 $.
BUY THE SET (MNP-115): US$ 420
Click here to view Miss Nyet's Shipping and Handling policy.