Necklace "The Stirrup 2.0"
STEEL CHAIN, DEERSKIN LEATHER, SOLID BRASS / RHODIUM OVER SOLID BRASS STIRRUP PENDANT WITH DETACHABLE BACK FRINGE
Each of a pair of devices attached to each side of a horse's saddle, in the form of a loop with a flat base to support the rider's foot.
This choker is Delphine Pontvieux's original creation for her new Spring/Summer 2014 collection, designed as an evening-wear variation of her ever popular "Stirrup Chocker."
Tipping the scales at 8.6 ounces (approx. 250 grams), this necklace won't go unnoticed around your neck. Made of steel and buttery soft deerskin leather (the pendant is made of solid brass for the gold tone version, and of rhodium over solid brass for the silver version), it is a vision of strength, power, fearlessness, beauty and timeless elegance, just like the polo players that continue to inspired Pontvieux, year after year, as she watches them in action.
Necklace length: 20 inches (508mm) – Pendant 1 1/2 x 1 3/4 (38 x 45 mm).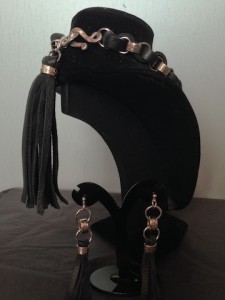 It is also adorned with a detachable leather fringe in the back, so you can wear it two ways: as a simple necklace,  or with the fringed attachment to amp up the sex appeal of a backless/strapless dress.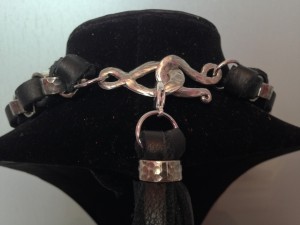 Also available in gold tone version (both models available with matching earrings and bracelet)
"STIRRUP 2.0" NECKLACE (MNP-113):
BUY IT: US$ 240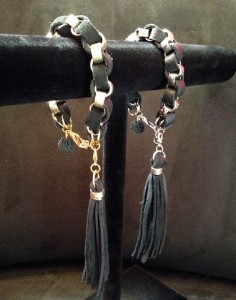 Pair the earrings with the Stirrup 2.0 bracelet and the necklace to create a striking set and save 50 $.
BUY THE SET (MNP-115): US$ 420
Click here to view Miss Nyet's Shipping and Handling policy.