The 'Tiphaine' Chainmaille Bracelet
CLUSTER OF CHAINS WITH WEAVED JUMP RINGS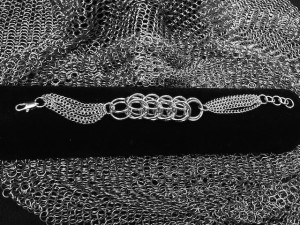 This chainmaille bracelet incorporates jump rings weaved in a 'Full Persian' weave pattern, connected with two clusters of silver chains around the wrist.
The bracelet measures 7 inches in length, plus an extra connector chain that can add another 1 1/4 inch to it.
The chains around the wrist are rhodium-plated. As for the jump rings, they are made of anodized aluminum (rhodium-plated for the silver jump rings.)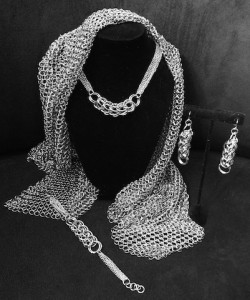 Pair it with the 'Ermeline' earrings and the 'Alix' necklace from the collection in the same color range for a perfect set.
Choose up to two colors for the Full Persian Weave. If you want all jump rings the same color, select the same hue in both boxes. Otherwise, Jump Ring 1 corresponds to the color of the middle rings, and Jump Ring 2 corresponds to the outside one.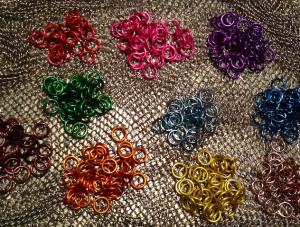 TIPHAINE CHAINMAILLE BRACELET (MNP-104)
BUY IT
US $60
Click here to view Miss Nyet's Shipping and Handling policy.