The "Woah, Frenchy" Cuff Bracelet
HAIR-ON COWHIDE CUFF WITH STUDDED FRENCH FRANC COINS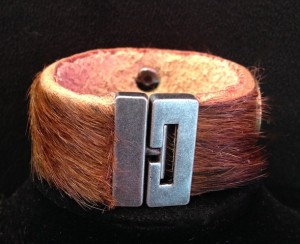 This cuff bracelet was created to bring a nostalgic tear to the eye of anyone of French descent! Pair it with the French coin earrings for a stunning set.
WOAH FRENCHY CUFF BRACELET (MNP-094)
This cuff bracelet features a random selection of old French coins that have been attached with studs to a 1-inch wide cuff of hair-on cowhide.
The attachment is made of antique silver-plated brass.
BUY IT
US $75
 Click here to view Miss Nyet's Shipping and Handling policy.