Wraparound "The Stirrup"
LEATHER WRAPAROUND BRACELET WITH SOLID BRASS STIRRUP PENDANT – NOW AVAILABLE IN SILVER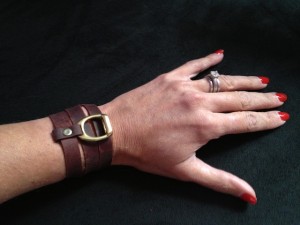 stirrup |ˈstərəp, ˈstə-rəp, ˈstir-| noun1:
Each of a pair of devices attached to each side of a horse's saddle, in the form of a loop with a flat base to support the rider's foot.
This wraparound bracelet was designed to compliment the "Stirrup" Choker (the already popular necklace which adorns the necks of La Martina Miami Beach 2013 Polo World Cup female polo players) 
The "Stirrup" is minimalist, yet, refined, in shape. Made of Latigo leather (which is used in horse saddlery) and solid brass, it is a vision of strength, power, fearlessness, beauty and timeless elegance, just like the polo players that inspired Pontvieux, as she watched them in action in Wellington, Florida, last winter.
The Stirrup wraparound is made of 1/2 inch (12.7 mm) wide strip of fine Latigo leather.
Adorned with a solid brass stirrup pendant, which measures 5/8 inch in width (16 mm). The silver version is rhodium-plated over solid brass.
With a total length of 26 inches (635 mms),  the supple leather bracelet is designed to wrap three times around your wrist. Just like most of our pieces, this one is versatile enough that you can also wear it as an anklet, choker, etc.
The rivets and strap buckle (see photo) are also made of solid brass.
The strap buckle closure is a perfect option to fit every female and male wrist sizes, up to 8 1/2 inches wrist size (215 mm). The bracelet is perforated to accommodate sizes between 7 and 8 1/2 inches.
If the size you need is smaller than 7 inches, specify your exact wrist size when placing your order (or email us at missnyet@missnyet.com) and we will be happy to add extra perforations to fit your measurements. If you request a size larger than 8 1/2 inches, we will be happy to custom make it to your specifications.

"STIRRUP" WRAPAROUND (MNP-044):
BUY IT: US$ 90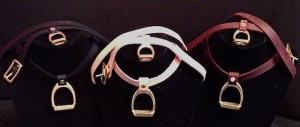 "STIRRUP" WRAPAROUND AND CHOKER SET (MNP-045):
Share your flair for equestrian fashion by pairing the "Stirrup" Choker with the stirrup wraparound bracelet to create a set that will get you showered with compliments whenever you set out to exercise your horse or attend a competition. Don't own a horse? Not to worry, it works just as well, even sans animal.
BUY IT: US$ 150
Click here to view Miss Nyet's Shipping and Handling policy.