The Narrow Anchor Shackle
The Bracelet that started it all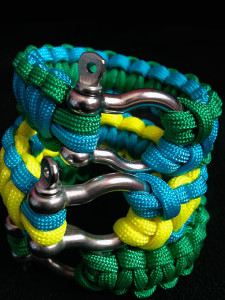 Just as rugged and versatile as the larger anchor shackles, but a bit more refined with a nautical flair. The narrow anchor shackle features four strands of 550lb parachute cord with a small (3/16″) marine-grade stainless steel anchor shackle.
The narrow shackle can be made in a single color, or with a combination of two colors for a more dynamic look. With twenty nine different cord colors to choose from, there are hundreds of possible color combinations to help you find the one that reflects your personal tastes.
(Click Here for a complete chart of available cord colors)
Very popular as a bracelet, it can also be worn as a anklet or a choker. Be sure to specify the bracelet or anklet size you want when placing your order.
(Click Here to find your wrist size)
BUY IT
MNP-009 – Bracelet (US $25)
MNP-014- Anklet (US $30)
MNP-017-1 – Choker (US $40)
Silver charm in the picture not included – However, the hole in the anchor pin allows you to easily add the charm or pendant of your choice to make your necklace as unique as you are! Just select the charm of your choice below.
MNP-017-2- Turtle Choker (US $60)
Available in solid color only, with turtle pendant wrapped up in suede lace.
Click here to view the suede color chart.
Anchor Charms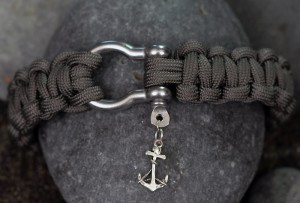 Your anchor shackle is sure to get rave reviews from friends and strangers alike.
If you want to take it a step further, you can add a charm to it. Each anchor pin has a hole which allows for the addition of a silver-plated charm of your choice.
See if you find a charm you like from the picture below, and we will add it to your selection.
SILVER-PLATED CHARM (MNP-015):
ADD IT
US $5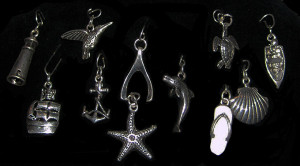 Click Here for more information on Miss Nyet's shipping and handling policy