Another Printers Row lit fest has passed, and even though Delphine Pontvieux was present only on Saturday to sign her thriller "ETA-Estimated Time of Arrest,"we are happy to report to report it turned out to be a very successful day.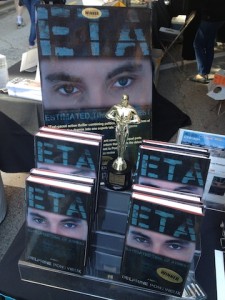 It looked like Chicagoans came out in full force and, blame it on the good weather or a recovering economy, they were eager to check out what's out there in the literary world, and, yes, people still do love to shop for real books!
Thank you Chicago for your support, and to all the fans who bought ETA in the past years and came to the booth asking about the release of its sequel because they loved the first book so much, fear not, Delphine is hard at work, and we arehoping to see a release out by the end of this year. The tentative title for the sequel is "MIA – Missing In Actun". Make a note of it so you're the first one to order it when it becomes available.
Here are a few photos of the booth and the event:
Photo credits : Delphine Pontvieux (Miss Nyet Publishing, LLC) / Andre Frieden (Avendia Publishing)