The book signing at the Fermin Muguruza concert, which took place last Thursday, June 13, at the legendary Bowery Electric, was a first in New York City for Delphine Pontvieux.
"People have their doubts when it comes to setting up book signing events outside the safety zone of a bookstore," says Pontvieux. "While I enjoy doing those – they are still the best location for book readings, since reading to an audience requires a quiet place to retain people's attention – it does not really matter anymore when you are just doing a book signing. In fact, I love doing those in locations where people would least expect a book signing to take place at, such as a busy bar, a hip clothing store…or a concert hall."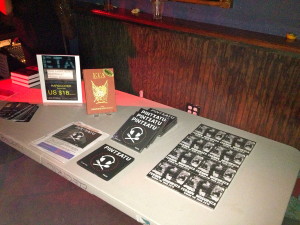 No frills or fancy table cover tonight: we just deliver the goods!
The event was held at the Bowery Electric in the East Village, a venue owned in part by Jesse Malin of ex-Coney Island High. While it may seem unrelated to set up a book signing at a rock show, there is reason behind the madness: in fact, Fermin Muguruza, frontman of his band Fermin Muguruza Kontrakantxa, was instrumental in helping Delphine at the time she was doing research for her novel ETA-Estimated Time of Arrest. He is also the man who penned the blurb for the book's back cover. As for Pontvieux, she has been a fan of his music for almost 30 years, from the time she discovered his first band, the radical ska hardcore basque band KORTATU, back when she was eleven years old.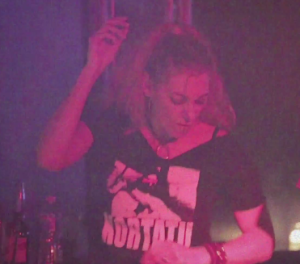 Click here to see the official video blurb of the NYC FM show
The FERMIN MUGURURUZA KONTRAKANTXA world tour continues, you can check all remaining tour dates on the official website. (in Montreal tonight at the Francofolies festival)
Read the prologue of Delphine Pontvieux's novel free, here