Now there's a truly original creation for you.
This necklace is called "the Sailor" because the pendant is a genuine stainless steel awning pulley, the kind that is found on sailing boats. The cord is made of parachute rope, which will not rot or get damaged when wet. Which means, you can go fishing, swim or dive in the ocean without ever needing to take it off.
Its length is fully adjustable, and can be worn as a necklace or as a choker.
Again, this is a unisex piece that will look equally attractive around the neck of a man or a woman, and is available in 33 colors.
All for a price less than…YO HO HO and a bottle of rum!
Sailing trip around the world not included.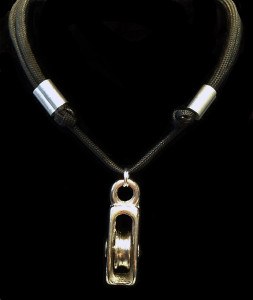 This design flew off the hooks of our jewelry displays at Our World Underwater, (Scuba Diving's biggest expo in the midwest), which just took place last week end.
And here's a fun, yet, true, tidbit of info about the Sailor:  we sold absolute equal amounts of them to women and men at the 3-day show, which makes this piece a winner in our quest for true unisex fashion!

Here is a picture of yours truly wearing the Sailor during the 'Our World Underwater' Expo: