The Leather Pirate Wraparound needs no more introduction, other than the fact it now comes with a fine-looking strap buckle to fit every wrist size instead of the original snap closure (which required to be made to order, with an exact wrist size measurement).
You may not know it, but I am always welcoming and listening to your comments and feedback.
Some of you mentioned you loved the pirate coins, but wished there would be a more delicate version of it available.
This is how I came up with the leather pirate's fake twin,the leather cord pirate, which is made with a thin leather cord (available in three awesome metallic colors,) instead of the original 1/2″ thick Latigo leather strip.
Judging by its success at the Our World Underwater salon, which just took place last week end, this bracelet looks like it has a bright future ahead!
The enticing price point also makes it a definite favorite as a thank-you gift or "just-because-you-mean-a-lot-to-me" gift for a family member, a great co-worker or BFF.
And because it adjusts with sliding knots, one size fits most wrists sizes! (if you are ordering for a very petite or a very large wrist, just let us know as you place your order and we will make adjustments accordingly to ensure a pleasing and attractive  fit.)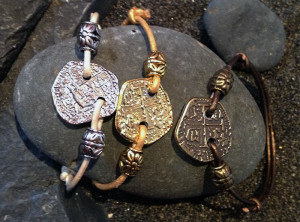 From now on, ordering most of our bracelets and cuffs is a breeze, because they are sure to fit every wrist, male or female, every time.
So go ahead, pay our website a little visit today and discover the Leather Cord Pirate Bracelet.